About 10 minutes by car from JR Ito Line Ajiro Station, Ajiro Villa Area is located at the mountain of Atami city Ajiro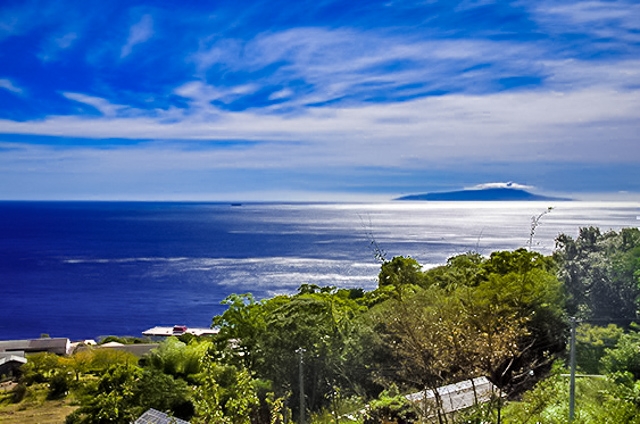 Located 10 minutes by car from Ajiro Station, the property is located in a warm area, with a good view of the Minami Atami area, with a panoramic view. It is a mountain cottage built on a large site of 2,917 sq m.
The building is very well maintained and has a home elevator that connects bedrooms on the first floor with an Living room on the second floor. Large bathrooms are in stone and you can enjoy the breathtaking views of Sagami Bay and Hatsushima Island from there.
This estate is a luxurious place where you can enjoy both the land-based foodstuffs, fruits and vegetables harvested on the site of 2,917 sq m, and marine based foodstuff landed from nearby Ajiro Fish Port.
A secret spot Ajiro with Hot springs, fishing, seafood dishes and lots of fun
Ajiro Port was a natural good port and In the past several hundreds years ago, many ships were gathering for the purpose of buying seafood. Even now, there are more than 30 dried fish shops, and you can enjoy the taste of Izu.
It is also famous for its hot spring, and the hot spring of Ajiro is able to enjoy various kinds of hot spring, such as turning cloudy and brown by changing subtle changes such as iron content, acidity and alkalinity.
At the nearby Ajiro fishing port, horse mackerel, mackerel, sardines, wakashi, oysters, mezina etc. can be caught and various fish species can be enjoyed depending on the season. Sea fishing while looking at the cityscape and ocean of the distance far away is a good medicine that restores the distant memories and forgets everyday life, and also restores the mind.
While feeling the smell of the tide drifting to the villa, soothing tiredness in high-quality hot spring, a life that thrives on fresh seafood is a luxury. Although it is a fishery town Ajiro that receives a sober impression at first glance, there is a scene that feels the old-fashioned nostalgic Japan where a truly tasteful townscape remains.
Property Information
Transportation
Address
Ajiro, Atami City, Shizuoka Prefecture, Japan
Nearest station
About 3.9km from JR Ito Line Ajiro Station
High Speed IC
House details

Total floor area
183.83 square meters
Floor Plan
4 bedrooms
Status

An empty House

Building structure
Wooden 2-storey building
Year built

December 1998

Site details
Site Area
2917 square meters
Use Districts
-
Building coverage ratio
40%
Floor-area ratio
200%
Land category
Forest area

Terrain
Slope
Water and gas electricity
Water 
Public water supply
Gas
Individual Propane
Electric
Chubu Electric Power Co.
Sewage drainage
Individual Septic tank
Others

Road

-

Type of transaction
Mediated
Legal restrictions and other remarks
Hot spring new contract available
・ Hot spring right: 1 million yen (individual), 2 million yen (corporation)
・ Basic fee: 18,000 yen / month (until 10 cubic metre)
・ Excessive charge: 1,800 yen / cubic metre
MAP: Ajiro, Atami City, Shizuoka Prefecture
Please inquire about this property from here