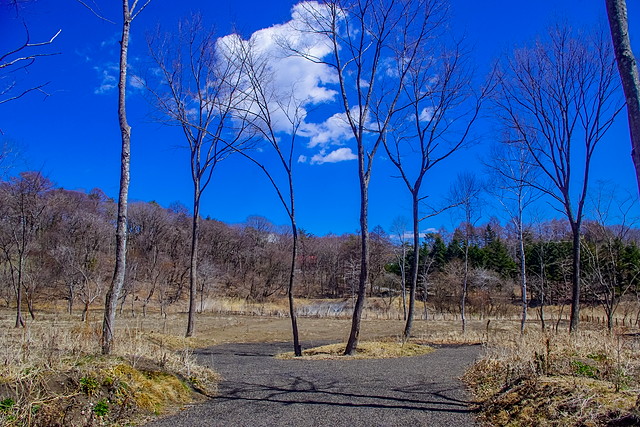 This land at the border of Oiwake and Naka-karuizawa area is a convenient land to go to either. You can feel free to go to Naka-Karuizawa area even when the road is crowded if you use the Sengataki Gaishu (Perimeter) road. Since Yusuge Onsen, Hoshino Onsen and Sengataki Onsen are within easy reach, you can enjoy the villa life while changing the hot spring on a daily basis.
The site with 3,427 square meters is cleanly leveled and can be built immediately. As there is nothing to block the sunshine in the large site, it is a worthwhile land for those who want a warm and bright villa.
The Ikeo Internal Medicine Clinic, located about 1.4 km away, is a clinic famous for internal medicine, including diabetes, and is useful when you feel ill with a cold, etc.
On the next to this land, there is an oxidation pond where the organic matter contained in the water, flowing from Asama Terace Area and Shin Karamatsu-no-mori Area, treated through the septic tank is finally removed by bacteria . It is an environmentally-friendly system that promotes treatment by mixing the final treated water and the river water with aeration. Although it is an artificial pond, it is a small earth-like place where wild birds gather and aquatic life inhabit and waterfront plants grow to realize a natural cycle.
If you are interested in this land, please don't hesitate to contact us.
| | |
| --- | --- |
| Asama Fureai Park | 700m |
| Seven Eleven / Lawson | 1.6m |
| Yusuge Onsen (Hot spring) | 2.3km |
| Hoshino Onsen (Hot spring) | 3.4km |
| | |
| --- | --- |
| Shinano-Oiwake Station | 2.6km |
| Ikeo Internal Medicine Clinic | 1.4km |
| Karuizawa Seibu Elementary School | 2.2km |
| Supermarket Tsuruya | 3.9km |
Property Information
Transportation
Address
Oaza-Nagakura, Karuizawa-machi, Kitasaku-gun, Nagano
Nearest station
About 2.6km from Shinano Railway Line Shinano-Oiwake Station
High Speed IC
About 15km from Joshin-etsu Expressway Karuizawa IC
Site details
Site Area
3427 suare meters
Use Districts
Category 1 exclusively low-rise residential zone
Building coverage ratio
20%
Floor-area ratio
20%
Land category
Forest area
Terrain
Slope
Water and gas electricity
Water 
Public water supply
Gas
Chubu Electric Power Co.
Electric
Individual Propane
Sewage drainage
Individual Septic tank
Others

Road
Public road about 6 m wide on the west side
Type of transaction
Mediated
Legal restrictions and other remarks
Karuizawa Town Nature Conservation Measures Outline, Nagano Prefecture Landscape Ordinance, Karuizawa Town Landscape Development Standards Guidelines

Earth and sand disaster alert area, Natural Park Act, National Land Utilization Law, Road setback: 10m, adjacent land setback: 3m
MAP: Oaza-Nagakura, Karuizawa-Machi, Kitasaku Disticts, Nagano
Please inquire about this property from here