Enjoy breathtaking views of Mount Asama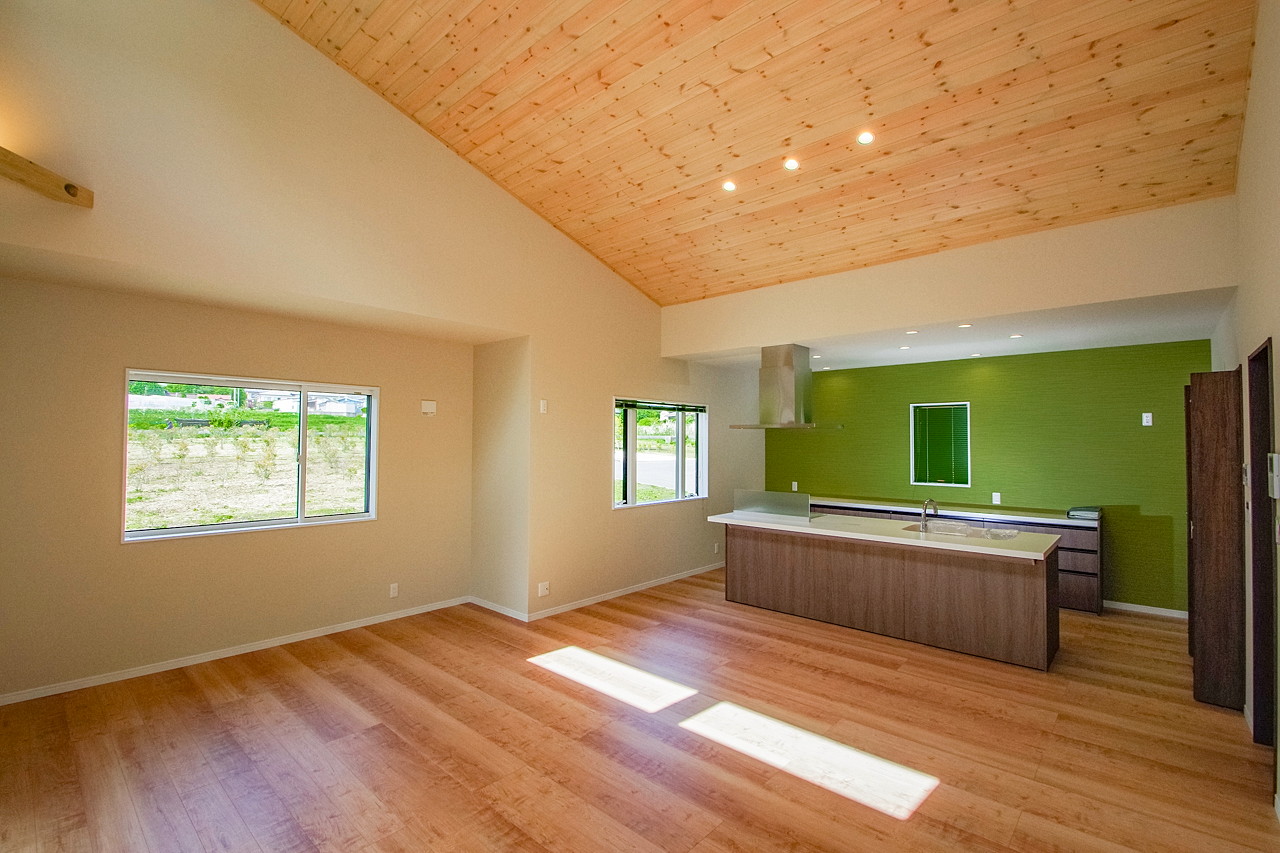 This newly constructed villa located in Karuizawa is situated to take advantage of the magnificent views of Mount Asama. It has two bedrooms and a terrace, from which you can enjoy views of the mountain and relax to the sound of the babbling brook which flows through the premises. There is an abundance of seri growing on the banks of the brook. Seri can be used for cooking and is often found in the Japanese dish nabe.
Oikawa station is within walking distance, providing easy access to the Shinano Railway. This railway connects with Karuizawa station (a bullet train stop), where you can enjoy a day of shopping at the Prince Shopping Plaza.
Close-by, there are multiple convenience stores and restaurants to choose from, and the highway interchange is easily accessible, meaning you can avoid the traffic jams in town when driving.
A Stylishly Designed Interior
The layout of the house is asymmetric with a gradually inclining ceiling that separates the space. The villa is designed to make you feel more immersed with nature, which makes it a perfect vacation home, as well as a permanent residence.
The warmth of the wood gives the room a refreshing feel and keeps the house cool in summer and warm in winter. The indirect lighting in the living room creates a calm and fashionable atmosphere.
You can enjoy nature views from the kitchen facing out towards the terrace. The kitchen is the heart of the house that spreads warmth each time you cook together with friends and family.
Property Information
Transportation
Address
Nagakura 4815-2, 4822-1, 4814-13, Karuizawa-machi, Kitsaku-gun, Nagano, Japan
Nearest train station
About 800m from Shinano Railway Line, Shinano-Oiwake Station
Nearest highway interchange

About 14km from Joshin-Etsu Expressway Karuizawa Interchange
House Details

Total floor area
110. 96 square meters
Floor plan
2 bedrooms
Status

Unoccupied

Building structure
Wooden 2-story building
Year built

April 2018

Land / Site Details
Site area
1429. 77 square meters
District
Category 1 residential zone
Building coverage ratio
60%
Floor-area ratio
200%
Land category

Lot

Terrain
Flat
Utilities (water, gas, electric, sewage)

Water 
Public water supply
Gas
Individual propane
Electric
Chubu Electric Power Co.
Sewage drainage
Individual septic tank
Other

Road
Property starts 2 meters from road center line

Type of transaction
Intermediary - agent
Legal restrictions,

Other remarks

Adheres to:

Karuizawa Town Nature Conservation Measures

Nagano Prefectural Landscape Ordinance

Karuizawa Town Landscape Development Standards
MAP : Nagakura, Karuizawa-machi, Kitsaku-gun, Nagano, Japan
To inquire about this property, please fill out the form below: