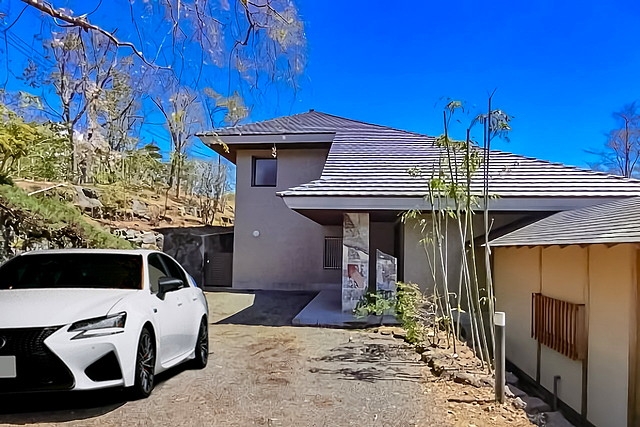 The Itopia Villa Site near Lake Ippeki is a holiday villa area developed and managed by Itochu Corporation.
It is dotted with restaurants and hotels in the outskirts and is a leading villa area in Izu Peninsula.
The coastline of Izukogen is a mecca for scuba diving, especially Futo is famous for its many fishes and changing terrain. Oval Squid gathers in the shallows in July and attracts divers to their lovely appearance. A variety of creatures entertain the diver every season, such as the swarm of fishe shining in the sun, the Ise Shrimp hiding in the rock, and the Clownfish hiding in the anemone.
This villa is also close to Izu Granpal Park, Izu Shaboten Animal Park, and Jogasaki Coast , and there is plenty of recreational activities to spend time.
Also, speaking of Kawana Golf Course, it is the oldest seaside course in Shizuoka Prefecture designed by C. H. Alyson, and it is one of the most prestigious golf courses in Japan. Why don't you spend the weekend in a fun course that has been selected as one of the "Best Courses in the World 100" by American golf magazines?
Property Information
Transportation
Address
Futo, Ito city, Shizuoka Prefecture, Japan
Nearest station
About 7.1 km from JR Ito Line Izukogen station
High Speed IC
House details

Total floor area
132 square meters
Floor Plan
6 bedrooms
Status
In use

Building structure
Wooden 2 story house
Year built

1993

Site details
Site Area
2340 square meters
Use Districts
-
Building coverage ratio
20%
Floor-area ratio
60%
Land category
-

Terrain
-
Water and gas electricity
Water 
Public water supply
Gas
Individual Propane
Electric
Tokyo Electric Power Co.
Sewage drainage
Individual Septic tank
Others

Road

-

Type of transaction
Mediated
Legal restrictions and other remarks
Hot spring basic fee 8,802 yen / month ( personal use )
MAP: Futo, Ito City, Shizuoka Prefecture
Please inquire about this property from here