Superb view of Sagami Bay and Atami Fireworks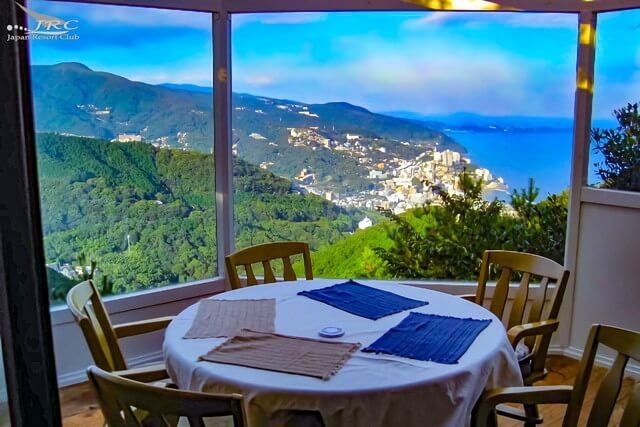 About 8 km from Atami Station, this villa was built in 1978. And over time, its scenic beauty adds value. In many places the landscape has been hampered as the trees grow, and places that once had a wonderful view of the ocean are now invisible. This villa still offers beautiful views from its good location. The bath was made from luxurious stones, and the view of Sagami Bay as you enter the hot spring is also exceptional.
Speaking of fireworks, it is a summer feature, but at Atami, a fireworks display is held more than 15 times a year in front of Sun Beach, and you can overlook fireworks from the solarium. When you look at the changing ocean every day, changing scenary every season, you will feel naturaly relaxed. We can enjoy autumn leaves of the mountains in autumn.
Recommended for those who want to live in the nature close to the sea and mountains.
Atami of sightseeing spot and villa area representing Izu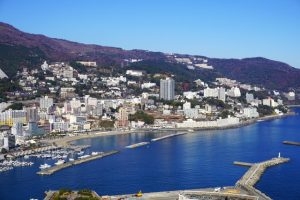 In the old days, Atami was popular as a hot spring resort in Japan , but it decleased popularity due to stagnation of the Japanese economy, diversification of play, popularity of overseas travel, etc. Before long, it became famous as desolated hot spring resort.
Atami City, which felt crisis, worked to develop attractive tourist cities by improving customer service, improving the city's environment, holding fireworks, etc. As a result, it finally slipped out a long tunnel and Atami city is back as a popular tourist destination again and tourists are increasing every year.
Spring quality and effect, of hot spring of Atami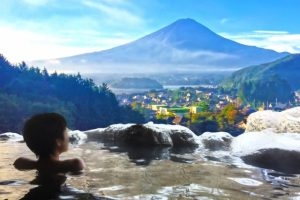 The hot spring of Atami, has more than 500 hot spring sources and the total amount of spring water is about 18,000 liters per minute, boast an abundance of the amount of hot spring water. The majority was the sulfate hot spring until the early Showa era, but it is said that the distribution of the chloride hot spring had spreaded due to the seawater entering into a wide area for reasons such as excess pumping.
Therefore, hot spring of Atami is colorless, transparent, weakly salty and slightly bitter, Chloride and Sulfate hot spring, containing sulfate, sodium and calcium, is the most, it is said that it works for neuralgia, muscle ache, arthralgia, fifty shoulders, etc. There used to be many communal baths in Atami, but it has changed with the times, and now only five communal baths. It is a high quality hot spring everywhere, so why not try it once?
The Atami Kogoshi Festival is a must see
Eve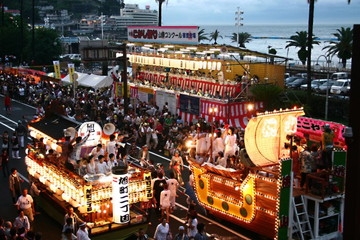 ry July, the Atami's largest festival, the Kogashi Festival, is held as an annual festival of the Kinomiya Shrine, and more than 30 floats, made by each neighborhood association in Atami City, parade along Route 135.
The sound of the festival music played on bells, drums and flutes sings out from the floats is may somewhat loud, but the loud volume is also boosting and exuding the festival mood.
On the day, large-scale traffic regulations will be established in Atami. Please make sure to check the parking lot and traffic regulations in advance.
Property Information
Transportation
Address
Kami-Taga, Atami City, Shizuoka Prefecture, Japan
Nearest station
About 8 km from JR Tokaido Shinkansen Atami Station
High Speed IC
House details

Total floor area
84.46 square meters
Floor Plan
6 bedrooms
Status

In use for

Building structure
Wooden 2-storey building
Year built
July 1978
Site details
Site Area
334 square meters
Use Districts
-
Building coverage ratio
30%
Floor-area ratio
150%
Land category
-

Terrain
Slope
Water and gas electricity
Water 
Public water supply
Gas
Individual Propane
Electric
Chubu Electric Power Co.
Sewage drainage
Individual Septic tank
Others

Road

-

Type of transaction
Mediated
Legal restrictions and other remarks
-
MAP: Kamitaga-machi, Atami City, Shizuoka Prefecture
Please inquire about this property from here