a luxury villa with a superb view of Sagami Bay and Atami Fireworks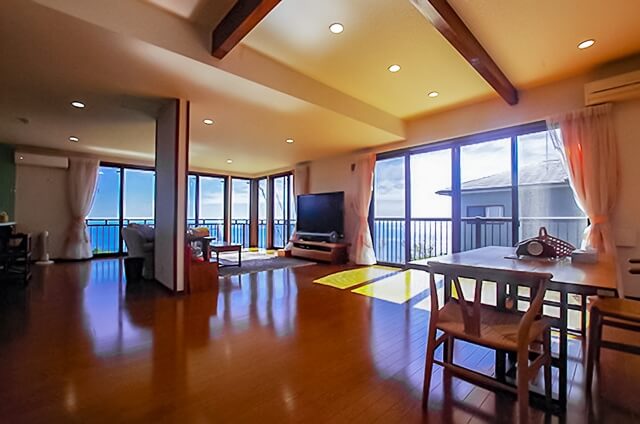 Since this villa was built in 2011 and has been used as a holiday home, the room is in good condition with few scratches and dirt. The over 100 square meters Living room are spacious and offer a pleasing space with a sense of openness along with the views of the ocean that dives into sight.
Speaking of fireworks, it is a summer feature in Japan, but at Atami, a fireworks display is held more than 15 times a year in front of Sun Beach, and you can overlook the fireworks from a terrace. It will be the most enjoyable night when you meet customers. The parking lot has space for about 5 cars, and is enough space to invite guest for a home party,etc.
Atami of sightseeing spot and villa area representing Izu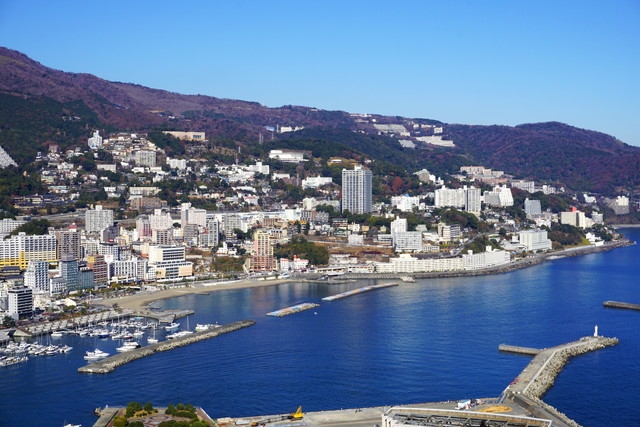 In the old days, Atami was popular as a hot spring resort in Japan , but it decleased popularity due to stagnation of the Japanese economy, diversification of play, popularity of overseas travel, etc. Before long, it became famous as desolated hot spring resort.
Atami City, which felt crisis, worked to develop attractive tourist cities by improving customer service, improving the city's environment, holding fireworks, etc. As a result, it finally slipped out a long tunnel and Atami city is back as a popular tourist destination again and tourists are increasing every year.
Speaking of villa site of Atami, Atami-Shizen-kyou villa area is famous
Atami-Shizen-kyou Villa Area was divided land, of 17 million square meters, into 2,000 divisions and was starting selling in 1964. It attracted attention as a holiday home land symbolizing Japan in a high growth period, and many celebrities had bought it and a luxury holiday home was built.
The feature of Izu is that you can enjoy it at the same time in both the mountains and the sea. And more the ease of use of this villa site at the entrance of Izu is also a popular reason. Currently, 900 villas are used, and many permanent residents also live because of the ease of living. The villa is located in a mountain 400 meters above sea level and offers a wonderful view of Sagami Bay.
Property Information
Transportation
Address
Kami-Taga, Atami City, Shizuoka Prefecture, Japan
Nearest station
About 8 km from JR Tokaido Shinkansen Atami Station
High Speed IC
House details

Total floor area
173.9 square meters
Floor Plan
4 bedrooms
Status

An empty House

Building structure
Wooden 2-storey building
Year built

October 2011

Site details
Site Area
1716 square meters
Use Districts
-
Building coverage ratio
30%
Floor-area ratio
140%
Land category
Forest area

Terrain
Slope
Water and gas electricity
Water 
Public water supply
Gas
Individual Propane
Electric
Chubu Electric Power Co.
Sewage drainage
Individual Septic tank
Others

Road

-

Type of transaction
Mediated
Legal restrictions and other remarks
Building not registered

All electrification, electric shutter

Property management fee 175,824 yen / year
Sub division name change fee 48,600 yen

Hot spring can be introduced
・ Right fee 2 million yen
・ The fee for use 3,500 yen / month (5 cubic meter)
・ Excess fee 230 yen / cubic meter
MAP: Ajiro, Atami City, Shizuoka Prefecture
Please inquire about this property from here