Convenient apartment in the vicinity of the convenience store near Naka-Karuizawa station.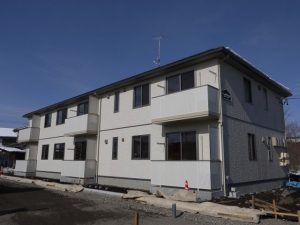 The apartment is located about 400 metres from Naka-Karuizawa station and a 5-minute walk away. There are a lot of customers who want to see the scenery of Mt.Asama when speaking of Karuizawa, but actually there are not so many buildings that meet such a condition. From the second floor of this apartment, which is one of the rarest buildings, you can admire the majestic view of Mt.Asama.
[What's Naka-Karuizawa]
This Area is called "Naka-​​Karuizawa" as a generic term for the range from the "Sengataki villa ground" in the north to the national highway No. 18 bypass in the south. Although Karuizawa is famous for its damp air, the air in Naka-Karuizawa is relatively dry. It is close to Shinkansen-Karuizawa Station from Naka-Karuizawa Station and access to Haneda and Air Port Narita Air Port is also good. It is popular with permanent residents who seek both convenience and climate.
| | | | |
| --- | --- | --- | --- |
| Lawson | 250m | Chubu Elementary School | 680m |
| ODA Medical Center Karuizawa Clinic | 350m | From the nursery school in Karuizawa | 220m |
| Yukawa Furusato Park | 1. 1 km | Super Tsuriya | 1. 1 km |
| Karuizawa Town Office | 760m | Cannes home | 860m |
Basic information
Address
Nagakura, Karuizawa-machi, Kitsaku-gun, Nagano
Nearest station
Shinano Railway Naka-Karuizawa
From the station
4-Minute walk
High Speed IC
Joshinetsu Expressway Usui Karuizawa I.C
From IC
About 9.5 km
Rent

39000 yen (Management and common maintenance Fee: 1000 yen)
Deposit/Key Money

1 month/0 months

Area

3k/Wall Core 49.68 ㎡ (Tsubo: 15.02 Tsubo of Wall Core)
Renewal fee

0 yen
Floor Building

1-2 Floors/-
Orientation

South facing
Time to move in

Scheduled Nov. 30, 2018
Total units

Wow
Property details
Initial warranty charge
15,000 yen
Other monthly expenses
Account Transfer fee 432 yen
Liability Guarantee Company

Enrollment obligations: Mandatory enrollment
Company:
Details:
Deposit/Key Money

Enrollment obligations: Yes
Name: Residential Insurance Wide
Amount: 1 17000 yen
Duration: 2 years
Floor plan
3K
Japanese-style 6-room 1f
Japanese-style 6-room 2f
Western style 4.5-second floor
Term of Contract

2 years
General (update: YES)
Conditions of occupancy
Office accepted/available for two people/elderly consultation/Pets not allowed/guarantor required/children/room share available
Parking lot

Empty yes 0 yen
Other traffic
Hokuriku Shinkansen Karuizawa 56 min walk Shinano Railway Shinano Oiwake 42-minute walk
Facilities and Conditions
Basic facilities and Conditions
Public water/public sewage/City gas/electric/in-room washing machine/gas stove/office available/Two people allowed/elderly consultation/Pets not allowed/guarantor required/children/room share available
Kitchen/bath/toilet
Separate bathroom, shower
Other monthly expenses
Equipment/Structure/renovation

Retro, renovation
Interior/furniture/home appliances/Telecommunications

Maisonette
Security/Service/condition
Good visibility, excellent location
Location/Land
Good view, good per Yang
Please inquire about this property from here